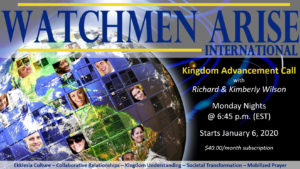 Are you looking for an opportunity to participate in deep teaching and discussion on the topic of Kingdom Advancement?  Each week, Richard & Kimberly Wilson host the Kingdom Advancement Call which is designed to explore the Word in various areas such as our current topic of:
Ekklesia Culture

What does ekklesia mean?
What does it do?
Is it an event?
Is it a lifestyle?
What did Jesus have to say about it?
Are there Old Testament examples of ekklesia in motion?
Calls are Monday nights @ 6:45 P.M. – 7:45 P.M. (EST)
Recordings of the calls will be available each week. Subscribers are able to listen to previous calls and download handouts.
Join today:  Cost $40.00/month subscription or Watchmen Arise $50+/mo partner
Click here to learn more:
You may join and/or cancel at anytime.  No long term commitment required.