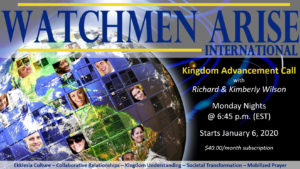 Are you looking for an opportunity to listen to deep teaching and discussion on the topic of Kingdom Advancement?  A Kingdom Advancement Call subscription gives you access to 52 live pre-recorded sessions by hosts, Richard & Kimberly Wilson.
Various topics include:
Ekklesia Culture

What does ekklesia mean?
What does it do?
Is it an event?
Is it a lifestyle?
What did Jesus have to say about it?
Are there Old Testament examples of ekklesia in motion?

God's Timing

Understanding Biblical time and seasons

Discipling Nations

How we can fulfill the Great Commission
Serving God's people through community action councils
Join today:  Cost $40.00/month subscription or Watchmen Arise $50+/mo partner
Click here to learn more:
You may join and/or cancel at anytime.  No long term commitment required.