Join us for our next SOCIETAL TRANSFORMERS BOOTCAMP class on October 17, 2020!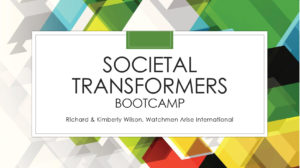 JULY 18, 2020 topic: INTRODUCTION TO EKKLESIA CULTURE
(available on demand)
AUGUST 15, 2020 topic: KINGDOM OPERATIONS
(available on demand)
SEPTEMBER 19, 2020 topic: JUDICIAL LEGISLATION
(available on demand)
OCTOBER 17, 2020 topic: CIVIL GOVERNMENT
(available on demand October 24, 2020)
SAVE THE DATE: NOVEMBER 14, 2020 topic: THE POWER OF ASSEMBLY

In Jesus' declaration in Matthew 16:13-20, he made the statement "Upon this rock I will build My church." Church, which is Ekklesia in Greek, means more than the building where we gather on Sunday mornings. In this course we dive into the God's intent for His Ekklesia to set societal standards and live the life of societal transformers.
We will explore in depth the word Jesus' used for church, where it originated and what that means for us today. We will gain a clear understanding of the term ekklesia, that it is not an event, but a lifestyle. We will receive ekklesia culture habits that will reflect our call as kings and priests.
Register today for Semester 1 of our new SOCIETAL TRANSFORMERS BOOTCAMP which will run from July to November 2020. Classes can be taken in person at Ekklesia House in Dover, FL, via Zoom or on demand at your convenience. Registration includes full access to each lessons curriculum, videos and discussion groups.