Cruising is a great way to get away from cell phones, meetings and our office.  So last December we boarded the Carnival Miracle and set sail for a week of quiet bliss on the seas.  God loves to speak at the most appropriate times, of which He chose a day where we were sitting on the balcony looking at the waves and enjoying the sea breeze.  He chimed in, "2019 is the year of the rudder.  The ship is built.  It is now time for the rudder to be set in place.  Set a steering committee.  Navigate into the future."
We had been steady building our ship for a year and a half by this point.  That is, our vessel for ministry as a couple, the merging of three ministries and their administrations, the fine tuning of our combined calls and the messages that we are to release to equip the saints.  It was good to hear from the Lord that "the ship is built", however setting sail into new waters required the rudder to be set in place or else we were going nowhere.
Rudders aren't very big compared to the whole construct of the vessel, yet without one that vessel isn't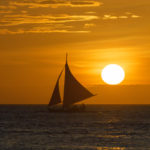 going anywhere.  As a child, Kimberly's family loved to board their 17-foot sailboat on the Long Island Sound to set sail for day adventures on Fire Island.  The rudder, basically a long board with a stick adhered to the top of it determined which way we were headed and in this case in cooperation with the wind.  If not in place properly, navigation was impossible.  It had to be adjusted to the depths of the water or it would hit bottom.  If put down too far, it would drop out of the boat! (Acts 27:40)
This small piece of apparatus is quite important.  The rudder is compared to the tongue in James 3:4-5:
Behold the ships also, though they are so great and are driven by strong winds,
are still directed by a very small rudder, wherever the inclination of the pilot desires.
So also the tongue is a small part of the body, and yet it boasts of great things.
The Greek word for tongue is glossa (Strong's G1100).  It is where the word glossary originates.  It's definition is the tongue, a member of the body, an organ of speech AND a tongue, the language or dialect used by a particular people distinct from that of other nations.  The tongue is linked with our ethnic heritage, the culture we grew up in, and our belief system.  If the motivation for the language spoken is not linked to our indigenous identity in Christ, chances are we will use it to release the language of the fallen cultures we came from.
Continue Reading